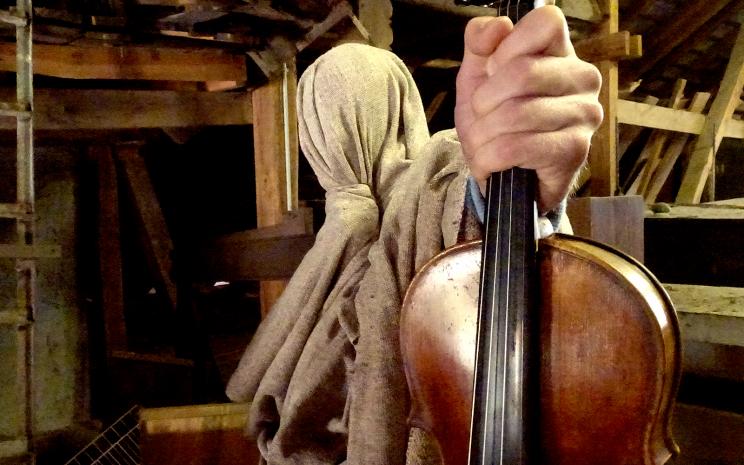 Die relative Kunst der Unfuge
Martin Brandlmayr & Peter Brandlmayr
A room at the Akademie Graz: the instruments of a string quartet, three drums, chairs, and music stands wait for performers and audience. But, as if by magic, the string and percussion instruments already sound out when visitors enter the room. So-called transducers cause the instruments to produce sound without anyone touching them. The sound piece Die relative Kunst der Unfuge by Martin and Peter Brandlmayr is projected onto the instruments with the aid of this technology and played back over speakers on several channels.
The two brothers dig deep in our cultural memory, collaging and/or manipulating material by Johann Sebastian Bach, Marcel Duchamp, Jacques Derrida, Ludwig van Beethoven, Anna Karina, Helge Schneider, Anton Webern, Billie Holiday, Stanley Kubrick, Susan Sontag, David Bowie, Gilles Deleuze, Monty Python, Jean-Luc Godard, and many more.
What is thus created is an abstract albeit strangely enlivened sound piece that seems to be equipped with a mysterious inner power. Charcoal sketches on the walls and a video clip invite one to search for clues. Martin and Peter Brandlmayr enable us to immerse ourselves in the pool of the auditory (sub-)consciousness of our culture and to trace the enigma of the lively and hence of that which is "somewhat recalcitrant, not at one's disposal."
Martin Brandlmayr & Peter Brandlmayr
Martin Brandlmayr & Peter Brandlmayr
Österreichische Erstaufführung
A production of ORF musikprotokoll.