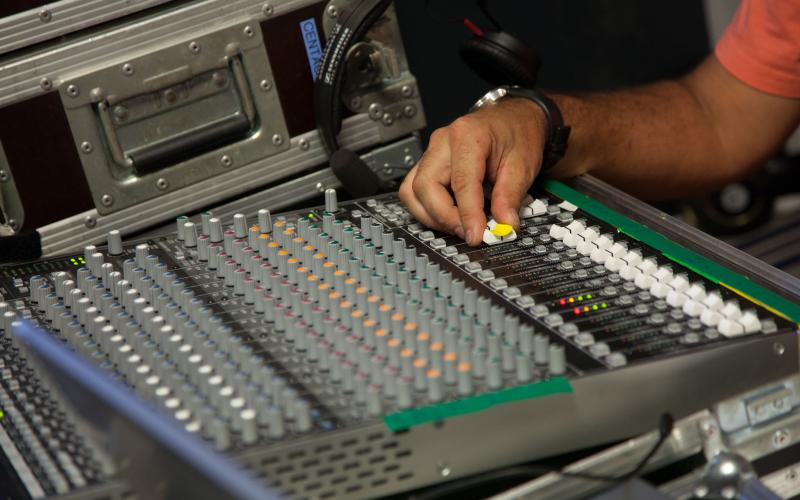 musikprotokoll 2018: Talk/Radio/Workshop
Getting into conversation with artists: musikprotokoll 2018 offers several workshops and talks in cooperation with Graz art institutions. With Chaya Czernowin, Fred Frith, Kurt Hentschläger, Kathy Hinde and others. The Ö1 radio focus "Next door 
–
explorations in Europe's neighbourhood", in the context of which several countries have been portrayed in detail in recent years, is also reflected in the ORF musikprotokoll: Susanna Niedermayr and Rainer Elstner 
–
editors of the Ö1 series Zeit-Ton 
–
present new music from Egypt in talks with artists. The live radio programme "Ö1 Klassiktreffpunkt" will also be back in Graz, presenter Renate Burtscher will speak with composer Georg Friedrich Haas.
05/10/2018 - 10:00 | MUMUTH
on experimenting
Mit Fred Frith, Bérangère Maximin, Chaya Czernowin, Deniz Peters, u.a.
Diskussion
05/10/2018 - 13:00 | Palais Meran, Florentinersaal
Artist Talk/Keynote: Chaya Czernowin
05/10/2018 - 13:00 | FH Joanneum, Institut für Design und Kommunikation, Raum 401
Splendid Voids
Mit Kurt Hentschläger
Diskussion
06/10/2018 - 10:00 | esc medien kunst labor
Ö1 Klassiktreffpunkt mit Georg Friedrich Haas
Mit Georg Friedrich Haas
LIVE Ö1 SENDUNG mit Publikum
06/10/2018 - 13:00 | esc medien kunst labor
Turn Drawings into Sound
Mit Kathy Hinde & Daniel Skoglund
Infos und Anmeldung zum Workshop unter http://musikprotokoll.orf.at/turn-drawings-into-sound
Workshop
06/10/2018 - 16:00 | Akademie Graz
Neue Musik aus Ägypten
Mit ZULI, The Dwarfs of East Agouza, Susanna Niedermayr, Rainer Elstner und Jacqueline George.
Diskussion
07/10/2018 - 21:00 | Helmut List Halle
Christian von Borries im Gespräch mit Andreas Dzialocha
Christian von Borries
Diskussion
Eintritt frei bei allen oben genannten Veranstaltungspunkten.