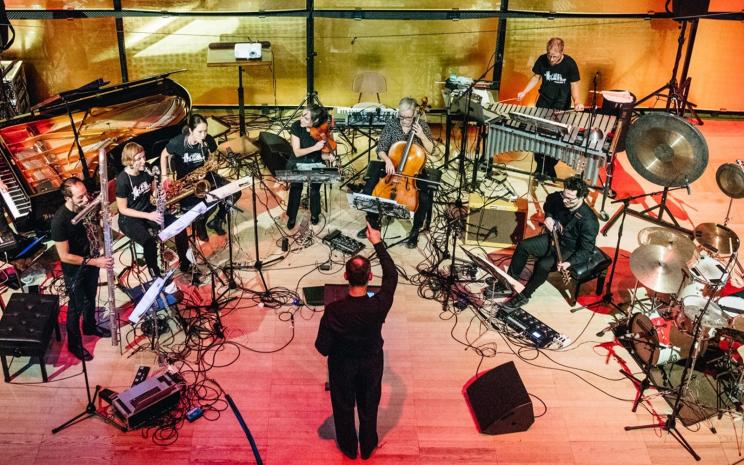 Koka Nikoladze / Dror Feiler / Maja Bosnic / Clara Iannotta
In its musikprotokoll debut, the Austria-based Black Page Orchestra plays a concert that offers unique live experiences. In collaboration with composer and performer Koka Nikoladze, the ensemble turns accustomed ways of hearing and seeing on their heads: the native Georgian composer, now based in Norway, spontaneously creates an animated musical score in real time that is projected for the audience and ensemble to see. It is a work that blurs the boundaries of composition, improvisation, and interpretation.
Serbian composer Maja Bosnić is known for her sophisticated multimedia concepts. For Graz, she has created a piece for hearing protectors, amplified ensemble, video, and electronics. The hearing protection allows audiences to experience high-impulse sounds corporeally without the risk of physical injury. Clara Iannotta's music for Peter Tscherkassky's short film, Outer Space develops explosive power. We can expect the same from the new piece by Swedish-Israeli composer and noise musician Dror Feiler.
Compositions: Koka Nikoladze, Dror Feiler, Maja Bosnić, and Clara Iannotta
Performer: Black Page Orchestra
The composition by Koka Nikoladze was commissioned by ORF musikprotokoll. The composition by Dror Feiler was commissioned by ORF musikprotokoll and Black Page Orchestra with financial support by the Ernst von Siemens Musikstiftung. The composition by Maja Bosnić was commissioned by Black Page Orchestra, financed by the Ernst von Siemens Musikstiftung.