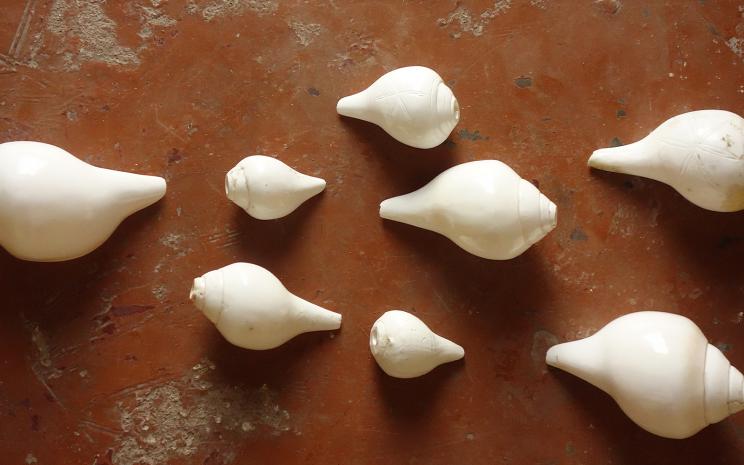 Stefan Fraunberger (AT), ensemble zeitfluss (AT)
The state of suspension between modernism and culture and its (uncanny) states in the sense of advanced perception are the focal theme of Stefan Fraunberger's acoustic research.
On an acoustic expedition on the Ganges Plain, Stefan Fraunberger recently found eight shells that were originally retrieved from the deep sea. After sawing off the tips, they were used by Brahman priests as instruments to announce and initiate their rituals. In Fraunberger's "deranged orchestra", the eight deep-sea shells become signal horns with which the composer sets out to bring about an "uneven permutation" in human perception in a ritual-style performance. Despite climate change, human beings still see themselves as the measure of all things instead of listening more closely to the rhythms of nature again. Permutation is also a key notion in "Ornamentrauschen". With his santur, a Persian dulcimer, the Austrian composer weaves a web of constantly changing sound patterns in which different makam moods run into each other.
In cooperation with SHAPE – Sound, Heterogeneous Art and Performance in Europe. Promoted by the "Creative Europe" programme of the European Union. Stefan Fraunberger is SHAPE Artist 2017.