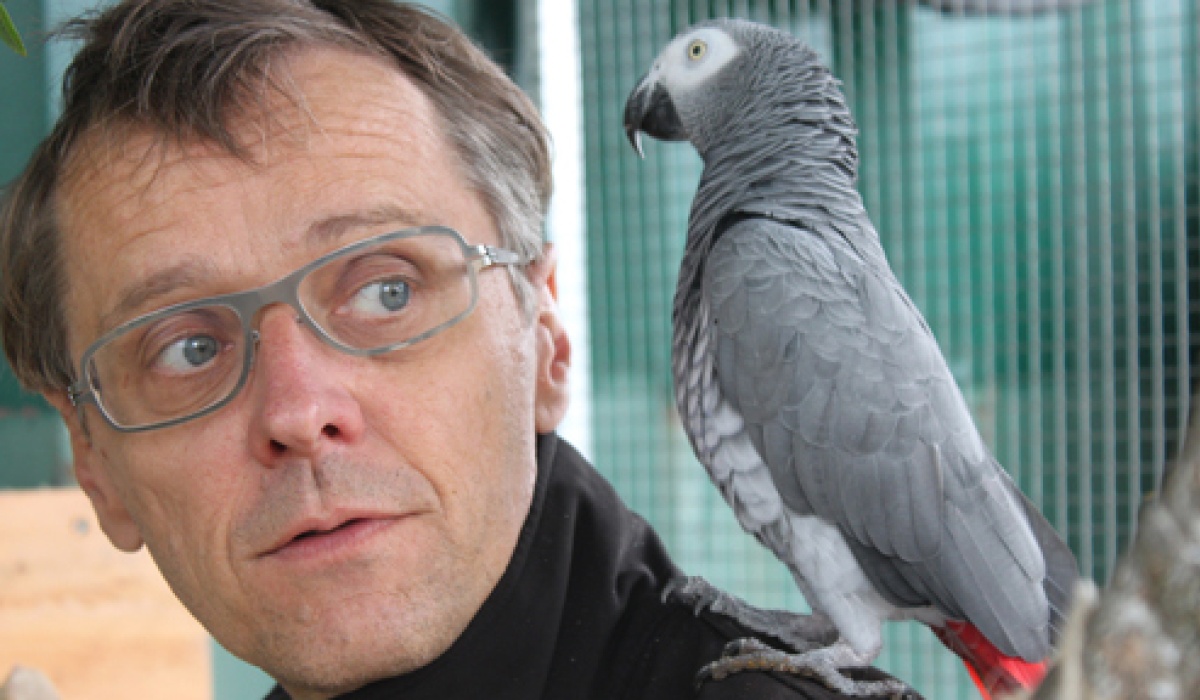 The "Kittenberger Adventure Gardens" are the site of the second round of the metamusic project, and for a whole month – until October 12 – you have the chance to experience it first hand. Taking part again this year are Kasi, Joki and Chica, along with three newbies: Pauli, Coco and Billy. 
They were the stars of the musikprotokoll event in 2013 – Kasi, Jago, Rosi, Joki and Chica – five grey parrots, for whom the artist collective alien productions built a set of musical instruments. The collective erected an interactive sound aviary in the exhibition space of the Graz Museum and equipped it with four specially designed musical instruments, which the parrots played at length during our festival. Now, since Saturday, September 13, phase II of the metamusic project is underway at the "Kittenberger Adventure Gardens," and you can experience it live.
Old and New Friends
Over the past few weeks a lot of people have worked many hours to get the second phase of the metamusic project up and running. Let's look back at the events leading up to now. In late August, while Michael Reiter and Manfred Strassner work tirelessly in the metamusic studio, putting together the individual pieces of the aviary, I along with Norbert Math and Andrea Sodomka of alien productions set out for the parrot shelter run by the parrot welfare society "ARGE Papageienschutz". Julia Bellmann, the director of the shelter, introduces us to the birds we will be working with this time.
Three of them kept the metamusic team busy last fall at the musikprotokoll in Graz: Kasi, Joki and Chica. Andrea Sodomka, Norbert Math, Martin Breindl and the biologists and bird caretakers helping them had their hands full trying to record all the impressions they would analyze if not right away then hopefully later. The first visit to the parrot shelter after the musikprotokoll event showed what a powerful impact alien productions had had on the five parrots. "It was amazing," Julia Bellmann recalls. "When the artists knocked on the window, all of them rushed over immediately." They had obviously had a great time in Graz. So the chances are good that the three newcomers – Pauli, Coco and Billy – will enjoy the project too. At any rate, they seem very interested and alert this Friday afternoon.
A Process of Several Months of Research
In early September I meet with Martin Breindl, Andrea Sodomka and Norbert Math in alien productions' Vienna studio to take another look back at the musikprotokoll 2013. Prior to our festival, the three artists had devised four different kinds of musical instruments. They were the result of a research process that had taken several months, the goal of which had been, among other things, to find out which kind of music parrots like to begin with and what might constitute the sort of musical instrument that birds not only can operate but also enjoy operating? The object was, therefore, not to condition the parrots, but to encourage them to actually play the instruments simply because they enjoyed fooling around with them.
Four Different Instruments
The first instrument was a Casio keyboard with key extensions that reached into the aviary. The second one was a bird swing that produced sounds when it was put in motion. There was also a digital instrument operated via a touchscreen: a green square on a black ground produced a sound when clicked by a beak. The fourth instrument was a box with a built-in bowl and inside that, a ball. When the ball was moved, it rolled over a series of sound-triggering light sensors.
Sound-Swing Obstacle Course and Meta-Communication
He could imagine building a kind of sound-swing obstacle course, Norbert Math thinks, in which each swing would produce a different sound as soon as it was set in motion. "And," he elaborates, "that would give rise to a kind of interaction, creating overlapping layers of sounds and melodies." Meanwhile, we have developed more programmes for the touchscreen instrument and are keen on testing them.
What happens when several birds communicate with each other via the instruments? This is an aspect that I don't believe we've really seen yet, Martin Breindl adds. The musical instruments could also be thought of as electromechanical or electroacoustic communication tools. "I think there are still so, so many things to be invented," says Breindl, who would also like to know whether the birds will begin playing music of their own accord, that is to say completely without human interaction. This is something that also still hasn't been observed to any great extent.
Maximum Complexity and the Power of Recollection
Another question, Andrea Sodomka comments, is how complex an instrument would have to be to keep parrots interested in them for an extended period of time, and she surmises: "I have the feeling that they actually need to be relatively complex in terms of sound and operation."
Norbert Math, Andrea Sodomka and Martin Breindl would like to build on the parrots' memory capacity. "I sense that a bird's memory probably works a little differently than ours, but it functions very precisely and very quickly," Math comments. "This is actually quite interesting, and it's something we can work with. Because we know that if we create a given situation, the birds will come back immediately. For example, if we stage a concert with the parrots like we did at the musikprotokoll 2013. We'd love to do that again."
A New Garden for the Birds
A few days before the opening at the "Kittenberger Adventure Gardens "– a unique blend of shopping centre and recreational park – a 40,000-square-meter facility with ponds for swimming, a huge herbal spiral, numerous flower and vegetable beds, a fitness garden, a playground, the willow hotel, the berry house, an open-air stage, an organic restaurant, the garden centre, and much more. At the edge of all this, a fresh path leads to the metamusic aviary. It consists of a large outdoor area with an adjoining container. The birds can retreat to this shelter when – like today – it rains. She's still amazed, Andrea Sodomka says: "Three weeks ago this was nothing but a field and now it is a fabulous garden landscape."
"We drove up with a big power shovel and reshaped the terrain," the master gardener Johannes Kubelka explains. "Then we spread a few truckloads of stabilizing material to make a nice formation level for the container and aviary." An old rotting birch was cut down to go inside the aviary.
Animal Welfare and Tourism
The head adventure gardener Reinhard Kittenberger tells us that their aim is to be able to accommodate all the abandoned and homeless parrots within a few years. Kittenberger is also the vice-president of ARGE Papageienschutz. "That is our plan and we hope to find a few partners to support us because it really will involve a lot of money," Kittenberger adds. "A year ago I saw how wonderful it was to work with the birds in Graz and I thought that this would be a nice kick-off event for us now that we are presenting our plans for the new project for 2018. I don't know exactly what to expect, but I'm sure it will be lovely and that for our visitors too it will be an interesting installation." In the future it will not only be important to build a new parrot shelter but to make it accessible for the tourist industry as well. I this way we can raise the money necessary to provide the birds with an atmosphere they will feel comfortable in.
Promising Initial Results
Tuesday, September 16, at the ORF radio station in Vienna. Norbert Math reports on his initial results, which are already quite promising. According to the multi-stage implementation plan, he introduced the first two instruments – the sound-swing and the touchscreen device – on Sunday and Monday. Pauli showed up immediately, and even before the perch was in place, he had already figured out how to play the instrument. Of course this called Kasi into action, who showed little interest at first but then in her typical manner proceeded to monopolize the instrument. "What really surprised me: Kasi made a sound that reminded me of a sound the touchscreen instrument makes," Math tells us. "I almost suspect that Kasi remembers this sound. I quickly pull out my cell phone to make a recording and what happens? Kasi just sits there like a bump on a log and doesn't open her beak again."
We will be documenting the project as it proceeds. If you want to come and have a look for yourself, you can visit the interactive sound aviary at the "Kittenberger Adventure Gardens" in Schiltern, Lower Austria, until October 12. We will also begin streaming live from the aviary soon.
Translated by Kimi Lum