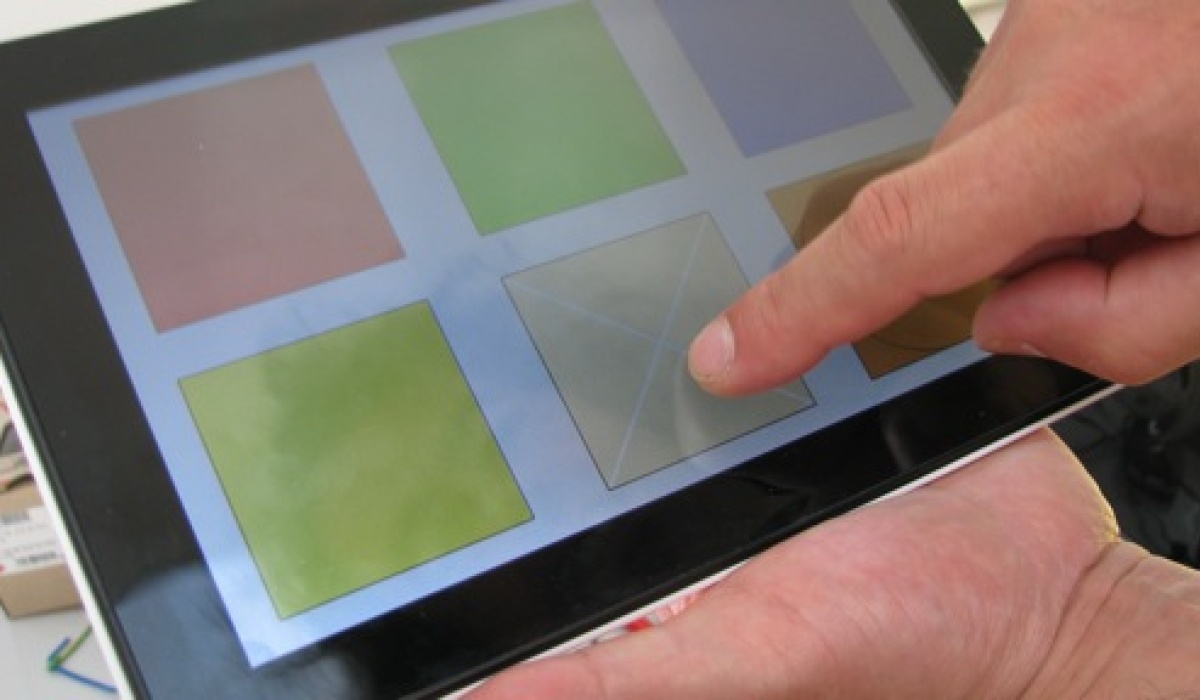 After getting back from a rather long journey I go to see alien productions in their atelier to find out how things have developed while I was away. Norbert Math shows Andrea Sodomka, Martin Breindl and me the prototype of his latest instrument: a wooden board with an Arduino (a single-board microcontroller) attached to it. This is connected via a simple mechanism with a string and then to a laptop. When the string is pulled, this movement is converted directly into sound. "Today when we go to the parrot's home I want to see how strong the birds are," Math explains. "With this setup you have to pull hard to trigger the sounds. If the built-in spring is too tight, we can use rubber bands instead."  
Instrument Number 2: The Touchpad 
Not long ago alien productions already presented the birds with a touchpad. Norbert Math, who developed the interactive software, explains that the touch screen displayed a red square. When tapped, a sine wave was heard. Because the parrots quickly got bored of this visually and acoustically very simple setting, Norbert Math, Andrea Sodomka and Martin Breindl want to try it again with more colours and more complex sounds today. "Now the idea is to add bandwidth," Norbert Math says, "I have proceeded to the next level with six buttons of different colours. Hidden behind the different buttons are various sounds which were recorded by Martin Leitner in the parrot's home last spring."  
… and Motion 
Norbert Math has elaborated the setting with the red square even further. Now when the parrot taps it, the square moves to the other side of the screen. The bird is thus prompted to respond to the movement; to follow the square and tap it again in its new position and the game starts all over again. "Perhaps it will amuse the bird and stimulate it to play longer with the instrument," Math ponders. Today we are here to find out.   
When asked for the most memorable moment of their last visit to the parrots' home, Martin Breindl tells me that at some point one of the parrots, Kasi, started to play with Iris Baldinger's headband. "This gave us the idea of building the plucked string instrument I presented earlier," Breindl says. 
Off to the Parrots' Home  
Equipped with instruments, the computer and one loudspeaker we set off for Vienna's animal shelter where the parrot welfare group ARGE Papageienschutz runs the parrots' home. In the parking lot we meet Iris Baldinger, who majored in zoology and as an expert will again help us to communicate with the birds and interpret their reactions. Iris Baldinger, Norbert Math, Andrea Sodomka and Martin Breindl decide to take the new and adapted instruments straight to the so-called scientific group of the parrots. 
Ever-Curious Kasi 
Again, Kasi is extremely interested. It actually follows the movement of the red square and keeps activating the button with its beak. The second setting with the six coloured squares is a big hit. However, the sounds are drowned out by the loud background noise. Abstract sounds would probably stand out better in this environment.  
Not So Different from Man  
Nadja Ziegler, the chairwoman of ARGE Papgeienschutz, is also around today and shares her vast knowledge of the behaviour of parrots – which sometimes is not so different from human behaviour. Parrots don't like to exert themselves unnecessarily. They prefer to play with things they can easily lift and manipulate. And they want immediate success in what they are doing. "Perhaps you should attach an oil seed somewhere, they'll do anything for oil seeds," Ziegler advises and adds that play instinct, eagerness to experiment and frustration tolerance vary from bird to bird. Just as each parrot has its favourite toy. 
Like an Orchestra 
Norbert Math concludes that each parrot probably will also have a favourite instrument. Using the analogy of an orchestra, he muses, "Just as an ensemble consists of viola, piano or first and second violin, we have the Schnürdel, the tablet and the acoustic swing." By "Schnürdel" he means the aforementioned string instrument, which the parrots utterly reject. The birds watch closely as Andrea Sodomka, Iris Baldinger and Norbert Math try to coax them into playing, but they keep their distance.   
Creative Use of the Destructive Impulse Finally, we ask Nadja Ziegler why parrots have such a passion for taking things apart. The chairwoman of ARGE Papageienschutz explains that since parrots are birds that breed in trees, they have to bore their own nest holes year after year. Therefore in these birds the impulse to disassemble everything they get their beaks on is directly linked to the reproductive instinct. "We could hide an instrument in a hole," Norbert Math comments spontaneously. "Another idea I had was to simply mount a pick-up device on a piece of cardboard. The sounds and noises produced when the parrots destroy the cardboard could be used as the basis for other sounds. We just have to install the microphone in such a way that the parrots can't swallow it."
Translated by Friederike Kulcsar
Link Ö1 Posting: http://oe1.orf.at/artikel/364242