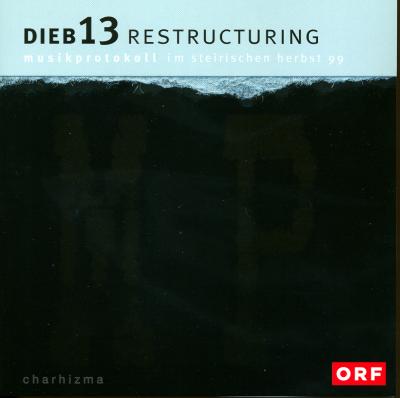 Three turntables, a pair of hands and an artistic goal of a sculpture of freely organized sound-waves - Edagr Varèse said son organisé - makes the music of turntable wizzard Dieb 13 ahighly concentrated restructuring of found sounds. The CD contains his live-performance at the festival Musikprotokoll 1999 as well as another "restructuring" of the music premiered at the same festival by orchestras and other soloists.
1. dieb13 :: formlos 30´51´´
[ recorded live at Musikprotokoll, October 3rd, 1999 ]
2. dieb13 restructuring 35´38´´
[ recorded live at Sperrmuell-Studio, Vienna, August 2000 ]
produced by dieb13
Restructured music from Musikprotokoll im steirischen herbst 99 by Ruper Huber, Christian Fennesz, Bernhard Lang, Brian Ferneyhough, Marina Rosenfeld, radian, Salvatore Sciarrino, dieb13.
Bestellnummer
ORF CD 260 charizma 13
Ermäßigter Preis
12.00EUR