Bilder - Verbot und Verlangen in Kunst und Musik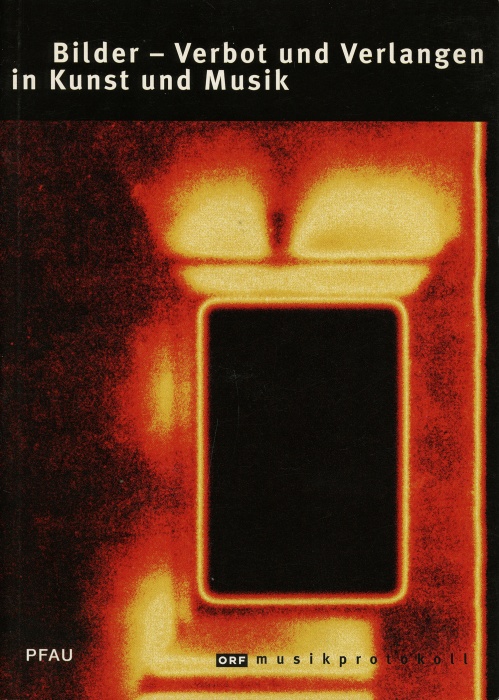 For the third time in six years musikprotokoll presents a collection of essays that reflect the close link between artistic production and theory construction. Following Das Rauschen (Wolke Verlag, Hofheim 1995) and Form – Luxus, Kalkül und Abstinenz (Pfau Verlag, Saabrücken 1999), the new volume is concerned with audiovisual topics and thus corresponds with this year's musikprotokoll festival programme which focuses on artistic productions from the fields of film, video, computer music, and audiovisual performance. The collection of essays does not, however, comment on the artistic works presented at the festival but can be seen as a volume in its own right dealing with various aspects of the subject. Reminiscent of a mathematical formula, the festival theme, [sounds + visuals] : Bilderverbot, already refers to the reflexive approach that brings visual and acoustic iconicity into question. Bilder – Verbot und Verlangen in Kunst und Musik (Pfau Verlag, Saarbrücken 2000) examines the contradictory subject from the perspectives of religious studies, art history, musicology, cultural history, and film and media theories. 
Bilder – Verbot und Verlangen in Kunst und Musik starts out from the idea that the "Bilderverbot" or "image ban", a concept that hermetically focuses on this issue, today could start a discussion on how to approach image and representation, iconicity, the very notion of image, and the rejection of images; and it could revive reflections on how abstraction and ornament position themselves in music and art – all this amidst everyday life that is dominated by (mostly electronic) ready-made sound/image couplings. The texts collected for this book reveal how closely prohibition and desire, mutually dependent, are intertwined in this subject matter.
Bestellnummer
ISBN 3-89727-130-3