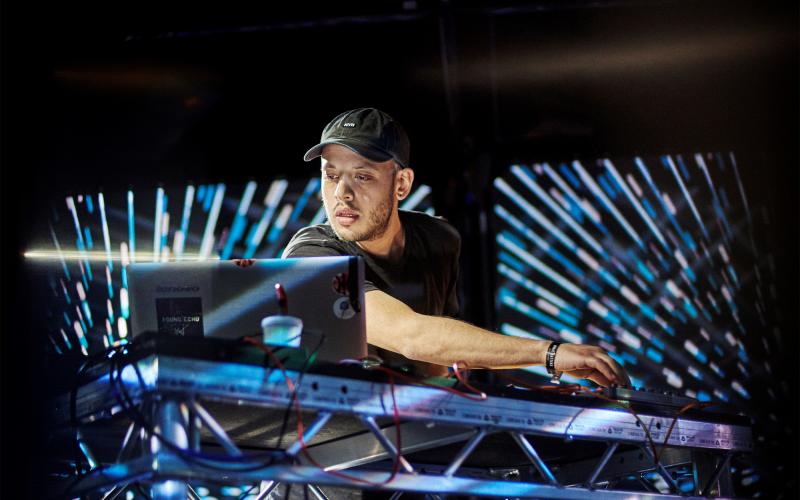 ZULI ist der Gewinner des CTM Radio Lab 2018
Awarded by Deutschlanfunk Kultur – Radio Art/Klangkunst and CTM Festival, in collaboration with ORF musikprotokoll im steirischen herbst and Ö1 Kunstradio, the CTM 2018 Radio Lab Open Call for works sought unusual ideas for pairing the specific artistic possibilities of radio with the potentials of live performance or installation, that also explore the CTM 2018 Festival theme: Turmoil.
The organisers would like to thank everyone who took the time to submit their proposals, which totaled 90 entries from 27 different countries and collectively addressed the call's themes and challenges from a wide and interesting array of perspectives.
This year's winner, Ahmed El Ghazoly aka ZULI, is a multi-instrumentalist, producer, and sound artist from Cairo, Egypt. He is co-founder of Kairo is Koming (KIK), a collective of six artists credited as being behind the rise of the city's underground electronic music scene in recent years. The collective also runs Cairo's first alternative music venue and club, VENT. Zuli released his debut EP, Bionic Ahmed, with Lee Gamble's UIQ label, following up with another unconventional techno release, Numbers, this past summer.
In his project, El Ghazoly proposes to compose diverse vignettes of life in Cairo, a grossly overpopulated city suffering political unrest over many years. In the artists word's the city has "a feeling of a volcano on the verge of erupting but never actually does." Having steadily recorded his surroundings over many years, Zuli proposes a series of vignettes that incorporate conversations held for example with taxi drivers, merchants, commuters at the railway station or metro, as well as his own original music compositions. At CTM 2018, festival goers will be able to enter into a circle of screens projecting 360 videos shot on location where the interviews and sound collages are sourced, immersing themselves into the city's turbulent environment. We'll also be able to check out a specially-constructed website documenting his rich, ongoing collection of images and sounds.
"Great to see Ahmed Elghazoly aka ZULI as one of the applicants for this year's Radio Lab call. Recent works of his have made for fascinating and sonically engaging listen. His proposed method of using field recordings, everyday conversations and video footage to provide an insight into the turmoil experienced in Egypt during 2017 is a simple yet powerful idea. I can't wait to see the project take form as both an installation at CTM 2018 and as a radio piece." – Daisy Hyde, The Wire
Zuli's work will be premiered at CTM 2018 Festival in Berlin (26.01. – 04.02.2018), and broadcast via Deutschlandfunk Kultur (spring 2018). The works will also be presented by the Österreichischer Rundfunk (Austrian Broadcasting Service) via one of their platforms: the ORF Zeit-Ton or Ö1 Kunstradio shows, or the ORF musikprotokoll im steirischen herbst festival in Graz.
The jury consisted of:
Daisy Hyde (Online Editor, The Wire)
Elisabeth Zimmerman (Producer, ORF Kunstradio)
Jan Rohlf (Artistic & Managing Director, CTM Festival)
Marcus Gammel (Curator, Deutschlandfunk Kultur Radio Art / Klangkunst)

Mariola Brillowska (independent artist)