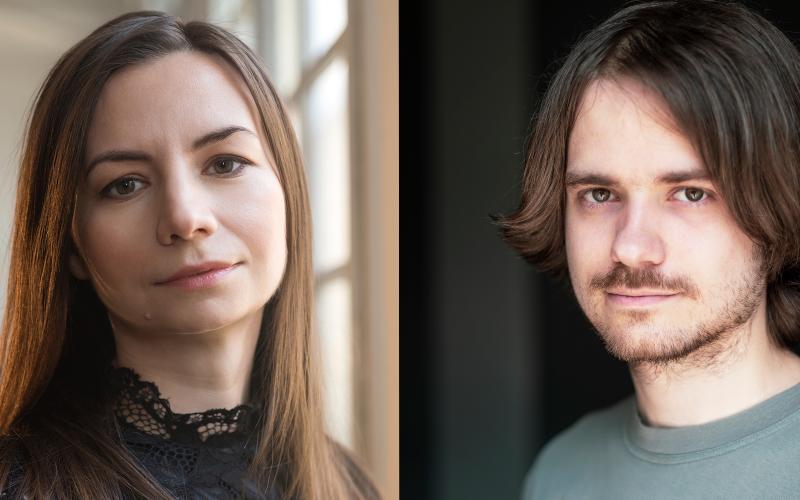 Johann‐Joseph‐Fux Prize 2021
Following a proposal by the Provincial Councillor for Cultural Affairs, Christopher Drexler, the Provincial Government of Styria has unanimously decided to award the 2021 Johann‐Joseph‐Fux Prize for Opera Composition to Christof Ressi and Nina Šenk. The Johann‐Joseph‐Fux Prize is endowed with 8,000 euros and is awarded by decision of the provincial government on the basis of a jury recommendation. Both prizewinning works will be premièred at the University of Music and Performing Arts Graz with students of the PPCM Instrumental and PPCM Vocal Study Programmes in cooperation with ORF musikprotokoll. Christof Ressi's "AVATARA" will premiere in October 2022 and Nina Šenk's "canvas" in October 2023.       
Nina Šenk (SI) for "canvas"
Excerpt from the jury's statement: Nina Šenk is a composer whose technical skills demonstrate a high degree of maturity and whosecompositional work to date has made a strong impression on the jury. Her style is characterised by an open‐ended refinement of harmonic tones, a subtle invention of new timbral textures and a unique command of vocal and instrumental ornamentation, all of which coalesce into a musical drama. The panel sees a great deal of potential in the poetic libretto of the planned piece "canvas" – written by Simona Semenič. The theme that the two female artists, both of whom plenty of stage experience, have chosen to explore in this work is the reversal of a familiar motif from music history: the Don Giovanni syndrome. A man serves as a projection screen (= canvas) for a number of women, the story is, however, told from the perspective of the women themselves. A composition that places gender mainstreaming issues in an ambivalent field of conflicting narratives, which a sensitive production should certainly imbue with striking contours and which promises to be an interesting piece of music theatre.
Christof Ressi (AT) for "Avatara"
Excerpt from the jury's statement: Christof Ressi is a refreshingly versatile artist who combines compositional theory and musical practice in a style that is both innovative and playful. An unorthodox explorer of liminal spaces, he navigates the boundaries of different genres, musical traditions and tonal languages with confidence and aplomb. His treatment of the musical material is grounded in a keen knowledge of various traditions, movements and positions. Ressi is a consummate master of his craft; his scores reveal a meticulous command of a variety of notational techniques and he champions an inspiring brand of aesthetic eclecticism, while at the same time exploring the potential of improvisational freedom. Ressi has his roots in jazz, and he is right at the forefront of present‐day developments in pop culture, as well as in various streams of contemporary classical music. As a software developer for artistic audio and multimedia projects, he explores the possibilities of electronic sounds. This includes an engagement with algorithm‐driven compositional processes, as well as auditory explorations of virtual dimensions. His chamber opera "Avatara" centres on two indeterminate figures who are lost in space as it were, searching for a fluid identity situated somewhere between analogue reality and digital virtuality, between authentic and simulated life.
Christopher Drexler: "An important tribute to the broad and diverse artistic output and an incentive for more outstanding achievements"
"The Styrian art and culture awards represent an important tribute to the broad and diverse artistic output in our province and provide an incentive for many more outstanding achievements. I would like to express my sincere congratulations to Christof Ressi and Nina Šenk as the winners of the Johann‐Joseph‐Fux Prize of the Province of Styria! By awarding the prize to Christof Ressi, we are honouring a Graz‐based composer who has mastered the art of 'deconstructing' various musical genres in an almost playful manner, provoking and inspiring us with each new, innovative work. Nina Šenk has impressed the jury with her work, which reflects a multifaceted musical spectrum, combining tradition and contemporary composition, and displaying a compelling level of craftsmanship. It is with great pleasure that we look forward to the operas that will be premièred by the students of the University of Music and Performing Arts Graz in the wake of the Johann‐Joseph‐Fux Prize."
Johann‐Joseph‐Fux Prize of the Province of Styria awarded as part of an opera composition competition
The Province of Styria awards this Cultural Prize, named after the famous Styrian baroque composer Johann Joseph Fux, every three years. It was launched in 1998 in recognition of the transformation of the former Academy of Music and Performing Arts into a university. The opera composition competition was institutionalised by the Styrian provincial government and held for the eighth time. The significance of this competition lies in the fact that, firstly, young European composers are given the opportunity to pursue the time‐intensive activity of composing operas and, secondly, students of the University of Music and Performing Arts Graz (KUG) are offered the chance to première a challenging, award‐winning opera as part of their studies. Invitations to take part in the competition and submit an initial outline for a composition were sent out to composers all over the world. In the second stage of the competition, a shortlist of six finalists was selected to develop a concept for a complete opera composition. The KUG expert panel nominated two works from these six concepts and proposed them to the Styrian provincial government.
The Panel
Georg Schulz (Rector of the University of Music and Performing Arts Graz), Frank Bedrossian, Holger Falk, Clemens Gadenstätter, Wolfgang Hattinger, Dimitrios Polisoidis, Olivier Tambosi, Albrecht Thiemann, Elke Tschaikner.